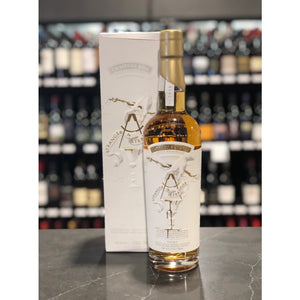 Size: 750ML
Proof: 92
Distillers Description:
After a decade of collaborating with the design company Stranger & Stranger, we chose to name a Limited Edition in their honour.

When it came to the design of the label, we gave them free reign to create. All we told them was that we were working on a recipe incorporating some amazing one-year-old grain spirit we had used to season some experimental American oak barrels. Dubbed 'sacrificial spirit', Stranger & Stranger brought this concept to life.

Filled with intense wood spice and exotic shades of vanilla character, the one-year-old spirit further enriches the ripely fruity malt whiskies at the core of the Stranger & Stranger Limited Edition.
You'll find aromas and flavours in this Stranger spirit that remind you of custard and dark sugars, fresh apple and an appealing herbal character. It has a sweetness on the palate that will call you back to the glass.

We hope you'll share and enjoy with friends and family this 'not- technically-a-Scotch' whisky in celebration of the ten-year collaboration between Compass Box and Stranger & Stranger