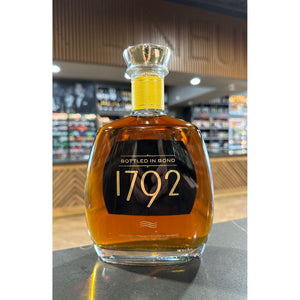 Size: 750ML
Proof: 100
Distillers Description: 
In 1897, the Bottled-in-Bond Act revolutionized the quality of American whiskey. Carrying on that tradition, this well-aged bourbon comes from only barrels filled during the same distilling season and is bottled at exactly 100 proof for a bold taste and lingering finish—a testament to the Bottled-in-Bond Act established over a century ago.
TASTING NOTES
True to its heritage, the unmistakable spice of 1792 Bourbon is met with notes of charred oak and fresh mint. Subtle caramel apple tones are delicately balanced with the lingering essence of coffee and black pepper.
Appearance:

 

The color of a rich wildflower

 

honey

. It thinly coats and clings to the glass.
Nose: Top notes of honeysuckle and clover honey, rounded out with char, vanilla oak and an herby brightness. Spice rumbles beneath the surface.
Palate:

 

Warm and full, and more mouth-forward. The aromas are brought through in the flavor, with a layered maple and coffee-toffee sweetness and oak grounded by an earthy quality. The finish lingers, with a smooth yet spicy and savory buzz.