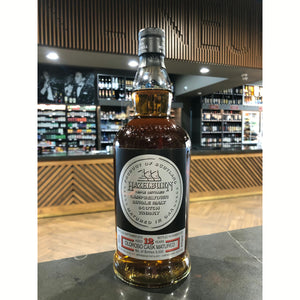 Size: 700ML
Proof: 99.8
Distillers Description: 
Hazelburn 12 year matured in Oloroso sherry casks is a delightful expression from the Campbeltown-based distillery. The nose is immediately greeted with rich sherry notes of dried fruit, raisins, and figs, along with a hint of toasted almonds and vanilla. As you take a sip, you'll experience a burst of sweet flavors such as honey, dark chocolate, and toffee, balanced perfectly with the warm spiciness of cinnamon, nutmeg, and ginger. The finish is long and satisfying, leaving a lingering taste of oak and dried fruit.
The Oloroso cask plays a significant role in this whisky's flavor profile. These casks are made from European oak and have been previously used to age sherry. As a result, they impart a distinctive nuttiness and dried fruit flavors, along with a deep reddish hue to the whisky. The casks also add an element of complexity and depth to the whisky, which is evident in every sip.
The history of Hazelburn and its distillery is rich and storied. The distillery was originally established in 1825, and over the years, it has undergone several changes in ownership and production. It was once known as the whisky capital of the world, with over 30 distilleries operating in the area. Today, only three distilleries remain in Campbeltown, including Hazelburn.
Hazelburn is unique in that it produces triple-distilled whisky, which is a rare practice in Scotland. This process results in a smoother and more refined whisky, making it a favorite among whisky enthusiasts. Hazelburn is also committed to sustainable practices, such as using locally sourced barley and renewable energy sources in production.
In summary, Hazelburn 12 year matured in Oloroso sherry casks is a testament to the quality and tradition of Scottish whisky. It is a well-balanced and complex expression, with a rich history and commitment to sustainability. This whisky is sure to delight any fan of sherry-cask matured whisky and is a must-try for those looking to explore the unique flavors of Campbeltown.