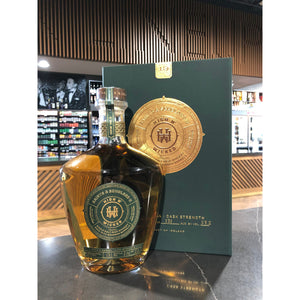 Size: 750ML
Proof: 106.4
Liquor Lineup Description: 
High n Wicked Saints and Scholars II single barrel aged 19 year Irish whisky is a stunning expression that pays homage to the rich history of Irish whiskey and the legacy of one of its most revered distilleries. For nearly two centuries, High and Wicked has been a pillar of the Irish whiskey community, producing some of the most sought-after and iconic whiskies in the world.
This particular expression, aged for an impressive 19 years in a single barrel, is a testament to the distillery's dedication to quality and craftsmanship. The nose is a symphony of aromas, with notes of honey, vanilla, and dried fruit giving way to subtle hints of oak and spice. On the palate, the whisky is velvety smooth, with flavors of caramel, toffee, and dark chocolate mingling with hints of toasted oak and a delicate, lingering finish.
It's easy to see why High and Wicked has earned its place as one of the most respected names in the Irish whiskey world, and this exceptional single barrel expression is a worthy addition to the distillery's illustrious legacy. With its impeccable balance, rich complexity, and undeniable depth of character, High n Wicked Saints and Scholars II single barrel aged 19 year Irish whisky is a true masterpiece that any whiskey lover would be proud to savor