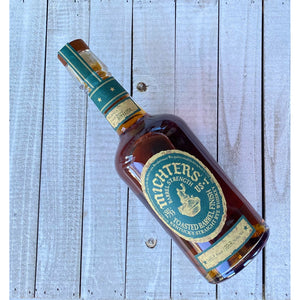 Las Vegas Area Delivery or In-Store Pickup
Size: 750ML
Proof: 110.4
Destillers Description:
While our Michter's team distills according to tried and true Kentucky practices, it continually experiments as it pursues Michter's goal of making the greatest American whiskeys. Following years of research on different barrel finishes for Rye whiskey, we are proud to offer this release of our Michter's US1 Toasted Barrel Rye. To make it we take our US1 Kentucky Straight Rye at barrel strength and then age it for an additional period in a second custom barrel. This second barrel is assembled from 24 month air-dried wood and then toasted to our specifications. The result is a unique Rye whiskey that we take pride in offering to you. The strength of the majority of barrels selected for this whiskey's first ever release taking place this September 2017 ranges in proof from 107 to 111.8 proof.
Tasting Notes:
Enhanced spice notes with delicate chocolate overtones balanced by some vanilla and honey, hints of roasted nuts and dates, with a lingering finish of burnt brown sugar reminiscent of crème brulee complemented by some Smokey campfire highlights.