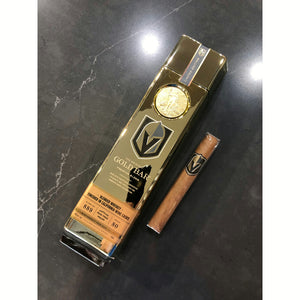 2-Pack Deal includes 
-1 Bottle of Gold Bar Whiskey 
-1 Vegas Golden Knight Celebration Cigar 
Introducing our exclusive Liquor Lineup 2-pack deal, featuring the perfect combination of luxury and indulgence. This limited edition set includes the highly sought-after Gold Bar Whiskey Vegas Golden Knight, a masterpiece of flavor and craftsmanship. With its rich golden hue and smooth, velvety texture, this whiskey is a true connoisseur's delight.
Complementing this exceptional whiskey is the Vegas Golden Knight cigar, meticulously handcrafted to deliver a truly unforgettable smoking experience. Made with the finest tobacco leaves, this cigar boasts a bold and complex flavor profile that perfectly pairs with the Gold Bar Whiskey.
Indulge in the ultimate sensory experience with our Liquor Lineup 2-pack deal, a celebration of both the artistry of whiskey making and the passion for premium cigars. This limited edition set is a must-have for whiskey and cigar enthusiasts, offering a unique opportunity to savor the finest in luxury and sophistication.