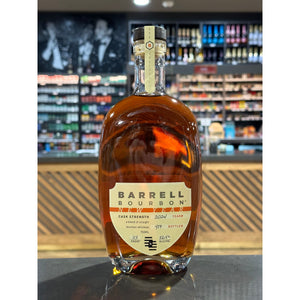 SIZE: 750ML
PROOF: 113
DISTILLERS DESCRIPTION: 
New Year. New beginnings. New traditions. Every autumn, we create a very special blend of bourbons to toast the coming year. Barrell New Year Bourbon 2024 is a tribute to the fresh possibilities and sense of optimism that every new year brings. 
Derived Mash bill
Corn: 72%
Rye: 22%
Malted Barley: 5%
Wheat: 1%
States and Ages
Kentucky Bourbon: 8 years old
Indiana Bourbon: 5, 6, & 9 years old
Tennessee Bourbon: 8 & 15 years old
Wyoming Bourbon: 11 years old
New York Bourbon: 5 years old
Texas Bourbon: 5 years old
Ohio Bourbon:  5 years old
Maryland Bourbon: 5 & 6 years old
Our 2024 edition of New Year Bourbon contains the largest selection of states and bourbons in a single release in 2023. By creating this blend, we look to celebrate some of the most exciting bourbon being distilled across the US.