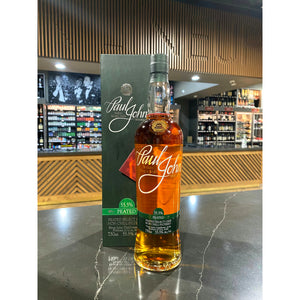 Size: 750ML
Proof: 111
Distillers Description:
One never tires of Goa. From exploring its various personalities, its past, its present, its sheer decadence or perky cheer. For the true explorer, Goa always has a surprise tucked up its sleeve. Much like the Paul John Select Cask Peated. This Single Malt astonishes even a seasoned whisky aficionado. Unexpected flavours balance each other, offering the perfect tipple. It is a wholesome Goan experience, packed into every sip.
Nose
The smoky, sweet and earthy fragrances have mellow resonances of spice.
Palate
As the crisp Muscovado and Demerara sugars create layered nuances, the smokiness of the Single Malt sets in, creating a perfect balance. A hint of spice radiates from the hickory and Dominican-style cocoa.
Finish
The delicate finish of this Single Malt has notes of Dominican cocoa laced with the tart edge of marmalade.
Pairing
This extremely complex whisky needs food that can complement it well. Tender, juicy steaks and blue cheese can help you unravel every nuance of this magnificent malt from Goa.