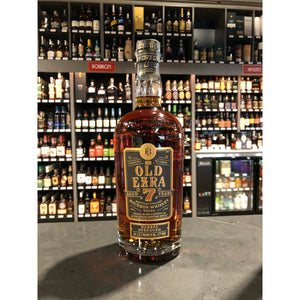 Aged for seven years and bottled without the addition of water, Old Ezra Barrel Strength Bourbon 7 Years is as close to getting a direct-from-the-barrel experience with the Old Ezra brand.
Vital Stats: 58.5% ABV, 117 proof. Aged seven years, charcoal filtered. 750ml 
Appearance:

 

Light amber.  As for the bottle, it is embossed with the Ezra Brooks"EB" on the base and the Lux Row Distiller's logo on the top of the label.
Nose: 

 

Presence of

 brown sugar 

and oak, alcohol, with a hint of nuttiness.
Palate: Right off the bat, you get baking spices and vanilla followed by oak.  As it begins to finish, peppery notes and leather make an appearance.  This one has all of the classic bourbon elements going on.  And as a 117 proof whiskey, it is remarkable easy to drink.