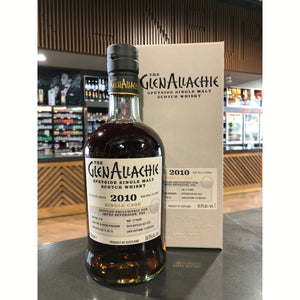 Size: 750ML
Proof: 113.2
Liquor Lineup Description: 
In the hallowed halls of Glenallachie Distillery, nestled amongst the picturesque Scottish Highlands, a hidden gem awaits the discerning whisky enthusiast. Enter the realm of Glenallachie 12 Year Single Cask Vintage 2010, a mesmerizing expression crafted with utmost care and patience. Prepare to embark on a journey of olfactory indulgence, as this exquisite elixir dances gracefully within Oloroso Puncheon Barrels.
Vintage 2010 marked the genesis of this illustrious offering, capturing a moment in time when the distillery's artistry met the rich embrace of Oloroso Sherry casks. Drawing inspiration from the traditional methods of yesteryear, Glenallachie brings forth a dram of exceptional quality, unraveled meticulously over the course of twelve years.
The nose reveals a symphony of opulence, tantalizing the senses with waves of dried fruits and rich cocoa. Immerse yourself in a tapestry of dark cherries, plump raisins, and succulent figs, harmoniously intertwined with delicate whispers of vanilla and honey. As this olfactory journey unfolds, the essence of toasted almonds and velvety chocolate emerges, embracing the soul and setting the stage for the captivating experience ahead.
Upon the palate, the Oloroso Puncheon Barrels lend their distinctive voice to the composition, imparting a luscious melody of flavors. Decadent notes of Christmas pudding and spiced oranges enchant the taste buds, intertwining with the velvety sweetness of toffee and butterscotch. The influence of the Oloroso casks is undeniable, bestowing a robust, nutty character, interwoven with hints of cinnamon and nutmeg, evoking memories of festive celebrations by a roaring hearth.
As the curtain falls, the finale is a crescendo of extraordinary length, leaving an enduring impression. The finish is a graceful departure, adorned with lingering whispers of oak and a subtle wisp of smoke, bidding a fond farewell to this exceptional expression.
Glenallachie 12 Year Single Cask Vintage 2010, aged in Oloroso Puncheon Barrels, is a testament to the unwavering commitment of the master distillers at Glenallachie. With each sip, they invite you to embrace the harmonious marriage of time, tradition, and artistry, as they unveil a symphony of Oloroso elegance. Raise your glass, and allow this single cask masterpiece to transport you to the heart of the Scottish Highlands, where whisky dreams are woven and treasured memories are forged.