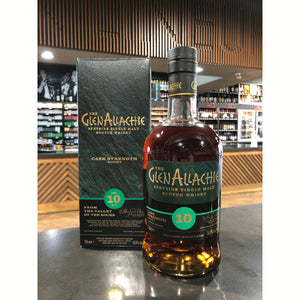 Size: 750ML
Proof: 
Distillers Description: 
The GlenAllachie 10 Year Batch 5 is a premium single malt Scotch whisky that offers a unique and complex flavor profile. Distilled in the heart of Speyside, Scotland, this whisky is aged for a minimum of 10 years in American Oak barrels before being bottled in small batches.
On the nose, this whisky is rich and fruity, with notes of ripe peach, apricot, and red apple mingling with hints of vanilla and toffee. The palate is equally complex, with flavors of honey, butterscotch, and creamy vanilla giving way to a slightly spicy finish that lingers on the tongue.
Crafted by master distiller Billy Walker, the GlenAllachie 10 Year Batch 5 is a testament to his dedication to using only the finest ingredients and traditional distilling techniques. Each bottle is individually numbered and presented in a luxurious gift box, making it the perfect addition to any whisky collection or a thoughtful gift for the discerning whisky connoisseur.
Overall, the GlenAllachie 10 Year Batch 5 is a truly exceptional whisky that combines the best of Speyside's traditional distilling methods with a contemporary flavor profile. Its rich, complex taste and luxurious presentation make it a must-try for any whisky lover.