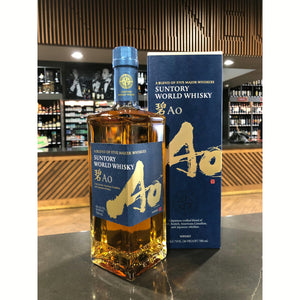 Size: 700ML
Proof: 86
Distillers Description: 
 The AO Suntory World Whiskey is a premium blended whisky that represents a unique collaboration between the world-renowned distillers of Suntory and their partners from around the globe. This exceptional whisky is crafted using a variety of carefully selected malt and grain whiskies from distilleries located in Scotland, Ireland, the United States, Canada, and Japan.
The nose of this whisky is complex and layered, with rich notes of fruit, honey, vanilla, and toasted oak. On the palate, it is smooth and mellow, with flavors of caramel, dried fruit, and a hint of smoke. The finish is long and satisfying, with a subtle sweetness that lingers on the tongue.
What sets AO Suntory World Whiskey apart is the exceptional care and attention to detail that goes into its production. The master blenders at Suntory carefully select and blend each component whisky to create a perfectly balanced and harmonious blend that highlights the unique characteristics of each individual whisky.
Overall, AO Suntory World Whiskey is a true masterpiece of the art of whisky-making. It is a must-try for any whisky enthusiast looking to experience the very best that the world of whisky has to offer.