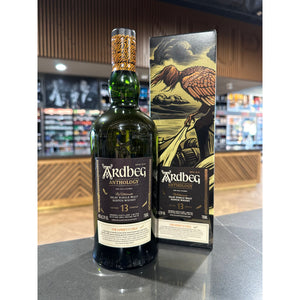 SIZE: 750 ML
PROOF: 92
LIQUOR LINEUP DESCRIPTION: 
 In the mystical realm of Islay, where rarity reigns supreme, Ardbeg's insatiable appetite for the extraordinary knows no bounds. Our whisky's inherent rarity merely pales in comparison to the island's peculiar allure. Thus, the Ardbeg Anthology Collection emerges, a testament to the legendary encounters with the most wondrous and bizarre beings ever whispered to traverse Islay's landscapes.
Drawing inspiration from the elusive Harpy – a winged enigma said to call Islay home – this inaugural offering is a bold departure for our Distillery. The Harpy's Tale, a whisky steeped in a 13-year slumber within the embrace of rare Sauternes wine casks, gracefully intertwined with classic Ardbeg ex-bourbon. Over a decade of maturation has seen the rising smoke harmonize with the sweet nectar of the Sauternes casks, as Ardbeg's unmistakable character dances with opulence. A truly superior aged expression, each sip is as mesmerizing as the legendary tale itself.
Nonchalantly defying the confines of chill filtration, this whisky presents itself unapologetically at 46%. A union of Sauternes wine casks and ex-bourbon casks that marks the genesis of the Ardbeg Anthology, an odyssey into the extraordinary, where Islay's mysteries find their voice in every drop.