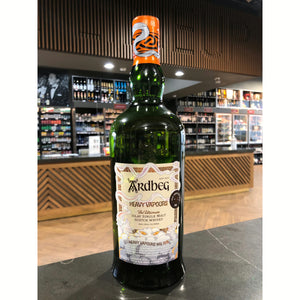 Size: 750ML
Proof: 100.4
Distillers Description:
 Introducing the highly anticipated 2023 Ardbeg Heavy Vapours Committee Release - a true celebration of the peaty, smoky character that Ardbeg is renowned for. This limited edition single malt Scotch whisky is a true masterpiece of craftsmanship, matured in specially selected casks to create a unique and complex flavor profile.
At the heart of this expression lies the unmistakable Ardbeg smoke, which is rich and intense, yet incredibly well-balanced. The palate is dominated by notes of dark chocolate and espresso, with hints of dried fruit and a subtle sweetness that lingers on the tongue.
The Heavy Vapours Committee Release is bottled at a robust 55.9% ABV, allowing the full complexity of the whisky to shine through. Each bottle is individually numbered, making it a true collector's item for whisky enthusiasts and Ardbeg fans alike.
This limited edition release is exclusively available to members of the Ardbeg Committee - a global community of whisky lovers who share a passion for the smoky, peaty spirit of Islay. So join the committee today and be among the first to experience the unforgettable taste of the 2023 Ardbeg Heavy Vapours Committee Release.