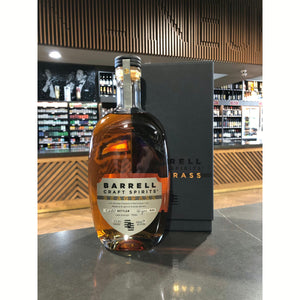 Size: 750ML
Proof: 133.34
Distillers Description:
This follows the release in 2021 of Barrell Seagrass, a blend of American and Canadian rye whiskeys finished in three casks. That brand has since trended with consumers, landing on multiple "best of" whiskey lists for 2021.
BCS Gray Label Seagrass is 100% Canadian rye whisky aged for 16 years, sourced and finished in Martinique rhum, madeira and apricot brandy barrels. It's bottled at 133.34 proof.
"We knew we had something special with the launch of Barrell Seagrass last year and decided to take that same method of global sourcing and blending, both in whiskey and finishing materials, and apply it to a very special set of barrels," says BCS Founder Joe Beatrice. "BCS Gray Label Seagrass is an expression rooted in the profile of Barrell Seagrass, but at a level only achievable with older and higher proof whiskies."