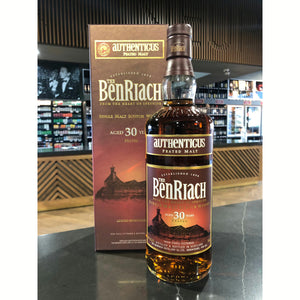 Size: 750ML
Proof: 92
Distillers Description:
The BenRiach Distillery is delighted to announce the release of BenRiach Authenticus 30 years old, a rare opportunity to experience a peated Speyside single malt dating back to the 1980s. Crafted from densely peated malted barley, BenRiach Authenticus 30 years old is a rich, intense Speyside single malt Scotch whisky.
Back in the 1970s, BenRiach began distilling a proportion of its whisky using peated malted barley, marking a return to the original Speyside character and flavour of malts made during the nineteenth century. Today the distillery holds a rare inventory of peated Speyside single malt, dating as far back as 1975. Research by leading whisky expert Charles MacLean indicates BenRiach was the first Speyside distillery to release a peated expression since WW2. This came in the form of BenRiach Curiositas 10 years old in 2004, which remains part of the core BenRiach peated range today. Since then, the distillery has experimented with peated wood finishes and the first BenRiach Peated Cask Strength release, an opportunity to experience a peated Speyside single malt in its most natural state.
BenRiach peated single malt whiskies are distilled from peat cut in the North-East of Scotland, containing a prevalence of wood derived from ancient trees, heather and bracken. The burning of this peat releases sweet smoke and aromatic spices through the malt and into the whisky, reminiscent of a campfire in a Speyside forest.