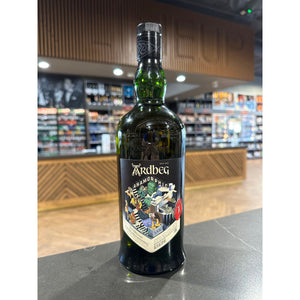 This is a BLACK FRIDAY SALE Limited Quantities Available at this price -Sale starts Thursday November 23rd going into Friday 24th at midnight. These bottles will sell out!
SIZE: 750ML
PROOF: 96.4
LIQUOR LINEUP DESCRIPTION: 
Prepare to embark on a captivating journey into the enigmatic world of Ardbeg Anamorphic, a creation born from the ingenious mind of Dr. Bill Lumsden. Here, innovation knows no bounds. An experimental and remarkably audacious cask treatment process was harnessed, where barrel lids were daringly removed and etched deeply to reveal the very heart of the wood, exposed to the fiery embrace. The outcome? A mesmerizing, multidimensional elixir that gracefully metamorphoses between four distinct realms – the SWEET, the SMOKED, the HERBAL, and the SPICY. Each sip unravels a tapestry of flavors, a true testament to the artistic exploration of whisky. In Dr. Lumsden's vision, Ardbeg Anamorphic is a transcendent experience, where tradition melds with the avant-garde, a whisky that defies convention and sparks the imagination.