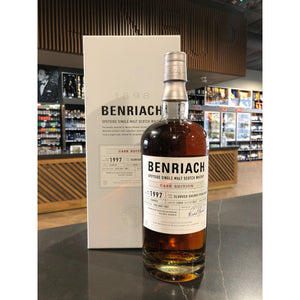 This is a BLACK FRIDAY SALE Limited Quantities Available at this price -Sale starts Thursday November 23rd going into Friday 24th at midnight. These bottles will sell out!
Size: 750 ML
Proof: 110.8
Distillers Description:
Personally selected by Master Blender Rachel Barrie from the Benriach eclectic cask collection, each Cask Edition is drawn from a single cask, chosen for exceptional taste and character.
Distilled on 16th June 1997 and aged for 24 years in a rum barrel before bottling in 2021 at a cask strength 53.6% abv and limited to 166 bottles.
Aromas of golden rum, waxy pineapple and coconut cream lead to a palate of apple, raisin, cinnamon, candied lemon and dark chocolate.