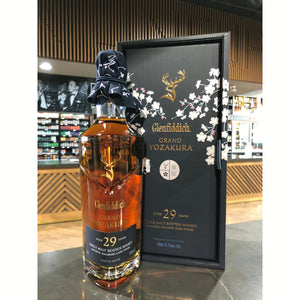 This is a BLACK FRIDAY SALE Limited Quantities Available at this price -Sale starts Thursday November 23rd going into Friday 24th at midnight. These bottles will sell out!
Size: 750ML
Proof: 90.2
Liquor Lineup Description: 
 As I pour a dram of the Glenfiddich 29 year Grand Yozakura, I am struck by the elegance of this rare expression. The whisky was aged in American oak casks for 29 years, before being finished for six months in Japanese Awamori casks, imparting a unique twist to its flavor profile.
On the nose, delicate floral notes mingle with sweet vanilla and oak, giving way to a subtle hint of coconut and tropical fruit that comes from the Awamori cask finish. The palate is equally complex, with layers of flavors ranging from creamy toffee and vanilla to toasted oak and spices. The influence of the Awamori cask is evident in the subtle hints of umami and fermented rice, which add a touch of earthiness to the whisky's rich, smooth character.
This exceptional expression pays homage to Glenfiddich's rich history and expertise in whisky making, dating back to 1887 when the distillery was founded by William Grant. Glenfiddich has been a pioneer in the industry, experimenting with new techniques and finishes, and setting the standard for quality single malt Scotch whisky.
The Grand Yozakura is a prime example of the distillery's dedication to innovation and craftsmanship. The Japanese Awamori cask finish adds a unique touch to this already exceptional whisky, resulting in a sophisticated and nuanced flavor profile that is sure to delight connoisseurs and collectors alike. This whisky is a true testament to the art and science of whisky making, and a fitting tribute to the legacy of Glenfiddich.