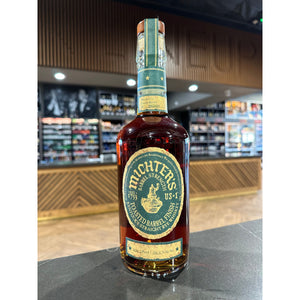 This is a BLACK FRIDAY SALE Limited Quantities Available at this price -Sale starts Thursday November 23rd going into Friday 24th at midnight. These bottles will sell out!
SIZE: 750ML
PROOF: 108.2
LIQUOR LINEUP DESCRIPTION:
 Unveiling the 2023 Michter's Limited Release Toasted Barrel Finish Rye Whiskey – a true masterpiece in American whiskey. Crafted with precision, this exceptional spirit blends tradition with innovation, showcasing Michter's unwavering commitment to excellence. A sensory delight, it reveals warm vanilla and caramel notes on the nose, complemented by hints of toasted oak. The palate enjoys a rich, full-bodied experience with sweet notes of maple syrup, butterscotch, and honey, harmonizing with spicy rye grain. The unique touch of toasted oak barrels adds a smoky layer, leading to a long, warm finish. Michter's Limited Release is meticulously crafted by master distillers, starting with a select blend of aged rye grains. Finished in specially toasted barrels, it stands out with a depth of flavor and complexity. Housed in an elegantly designed bottle and collector's box, this rare gem is a must for whiskey enthusiasts. With limited quantities available, seize the opportunity to relish the distinctive craftsmanship of the 2023 Michter's Rye Whiskey – perfect for both celebrations and enhancing your whiskey journey.