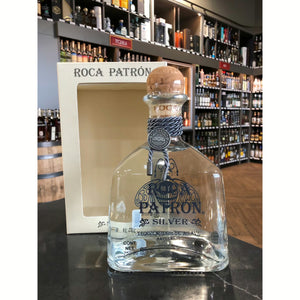 This is a BLACK FRIDAY SALE Limited Quantities Available at this price -Sale starts Thursday November 23rd going into Friday 24th at midnight. These bottles will sell out!
Size: 750 ML 
Proof: 80 
Distillers Description: 
Patron Roca Silver is a premium tequila crafted with exceptional attention to detail, resulting in a truly remarkable spirit.
Authenticity: Patron Roca Silver is made using traditional, time-honored methods by skilled artisans who take pride in their craft. It is produced using only the finest 100% Weber Blue Agave, which is hand-selected for its quality and maturity, ensuring a truly authentic tequila experience.

Distinctive Flavor: Patron Roca Silver offers a unique flavor profile that is rich and complex, with a perfect balance of sweet and savory notes. The agave is carefully roasted in small brick ovens, giving it a distinct smoky character, while the slow, traditional stone milling process creates a smooth and velvety texture that is full of flavor.

Smoothness: The tequila is double distilled in small copper pot stills, which helps to refine the flavors and create a smooth, clean finish that is both satisfying and enjoyable to sip.

Handcrafted Excellence: The agave is hand-harvested, and the production process is overseen by skilled distillers who carefully monitor every step to ensure the highest quality. Each bottle is hand-numbered and signed, reflecting the attention to detail and commitment to excellence that goes into every bottle of Patron Roca Silver.

Versatility: It is a tequila that can be enjoyed neat or mixed in cocktails, adding depth and complexity to any drink. Its distinctive flavor profile and smoothness make it a preferred choice among tequila connoisseurs and those who appreciate the finer things in life.