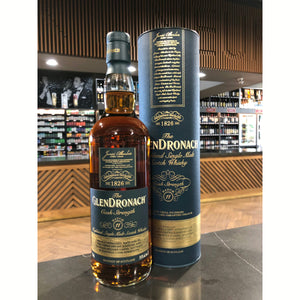 This is a BLACK FRIDAY SALE Limited Quantities Available at this price -Sale starts Thursday November 23rd going into Friday 24th at midnight. These bottles will sell out!
Size: 700ML
Proof: 119.6
Liquor Lineup Description: 
Introducing The Glendronach Scotch Batch 11, a remarkable cask strength release. Immerse yourself in an unrivaled sensory journey as each sip unveils a symphony of robust flavors and unbridled intensity. With unparalleled craftsmanship, this expression captivates the palate with its harmonious blend of rich, velvety textures and a complex tapestry of indulgent notes. Embark on a whisky expedition like no other, where every drop is an opulent revelation that leaves a lasting impression. The Glendronach Scotch Batch 11 is an opus of liquid artistry, meticulously crafted to delight the discerning connoisseur. Elevate your whisky experience and discover the epitome of excellence.