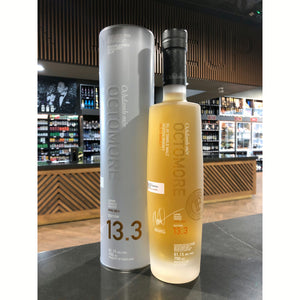 Size: 750ML
Proof: 122.2
Distillers Description:
Octomore 13.3 is distilled from barley grown on Islay, on one singular farm and demonstrates the phenomenal force of flavour when combining super-heavy peat with the variable harvests gathered from the island of Islay. This release is matured in a foundational parcel of first fill ex-American whiskey barrels and a supplementary selection of second fill European oak casks, hailing from the Rivesaltes region of France and the Ribera del Duero region of Spain.

Working with Islay barley is always a privilege. The ability to present it in a single estate, single vintage, single malt is perhaps even more poetic.
From year to year, Head Distiller Adam Hannett works with the base spirit bestowed upon him by the grower, together with natural factors; the changing climate and weather system, agronomic yield and the terroir of the field itself.
The European oak gives more subtle structure to the spirit, while the American oak allows the spirit to take centre stage. Expect vanilla and brown sugar, counterbalanced with fresh and round green fruit notes. The smoke is, as ever, gentle and dry, building to a long finish with hints of creosote and sea spray.