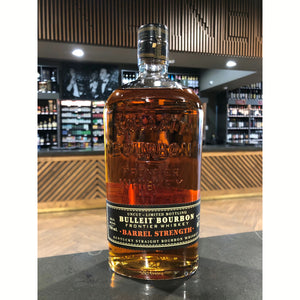 Size: 750 
Proof:
Liquor Lineup Description: 
Bulleit Bourbon Barrel Strength is a masterpiece of craftsmanship that pays tribute to the rich heritage of Kentucky's whiskey scene. From the first sip, one is transported back in time to the era of Thomas E. Bulleit Sr., the founder of Bulleit Distilling Company.
This fine spirit embodies the essence of a true Kentucky bourbon, with a complex, yet smooth flavor profile that is unrivaled in the industry. The nose is a delightful blend of oak, vanilla, and caramel, with a hint of toasted nuts. On the palate, one can taste the deep, rich flavors of charred oak, brown sugar, and spice, which culminate in a long, warm finish that lingers on the tongue.
The Bulleit family has been an integral part of the Kentucky whiskey scene since the late 1800s, and their legacy lives on through the exceptional quality of their spirits. With each sip of Bulleit Bourbon Barrel Strength, one can taste the history and tradition that has been passed down through generations of master distillers.
Here at Liquor Lineup we undoubtedly praise Bulleit Bourbon Barrel Strength for its exceptional quality and historical significance. This is a spirit that truly embodies the essence of Kentucky bourbon and the rich heritage of the Bulleit family.