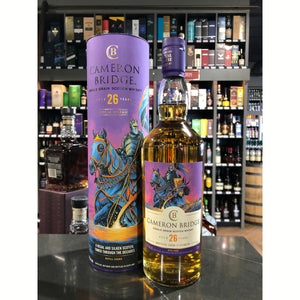 Size: 750ML
Proof: 112.4
Distillers Description:
As our legend goes, a brave knight forged a crown from a spirited battle lasting 26 years. Plunging through the River Ore in triumph, he carried his flag high, its long cerulean ribbons dissolving into the river's gentle flow, transforming the water into sweet, silken gold. There, a majestic distillery was born, and as the story has it, every 26 years since, the river runs gold once again, its lustrous character present in every dram.
Rising with a golden quality in 1824, Cameronbridge became the most enduring legacy of one of the oldest whisky dynasties. Regal, velvet and refined in its richness, its whiskies were renown for their silken and honeyed- smooth character, a taste of which rippled around the world, with loyal subjects far and wide.
This bold spirit gleams gold in the sun and swirls silky-smooth in the glass. Subtle aroma yields hints of spice, these savoury notes flanked by traces of hard toffee and shavings of fine oak. The smooth flowing texture carries a taste sweet with caramel toffee and intensely oaky-dry. Living up to lore, it's a regal spirit of abundant richness.
Appearance
Gleaming gold with amber lights.
Body
Medium.
Nose
Subtly spiced cereal hints and sweetness entwine to suggest ripe tropical mango, papaya, and peapods. Rising through this, traces of hard toffee and light, sustained shavings of oak hint at the spicy intensity on the palate. A splash of water reveals notes of cinnamon bun and salted toffee. Later, these fade appealingly to scented beeswax.
Palate
Silky and smooth-flowing in texture with an intense butterscotch- sweet taste, which mellows into rich caramel toffee. A balancing spicy-dry, oaky intensity appears mid- palate. Adding water softens the honeyed sweetness to creamy-smooth Swiss milk chocolate, with just a little salt mid- palate. Gentle spice now holds the sweetness in check.
Finish
Short and quite intense, with considerable warming chili spice. With water sweeter, the spice reduced.