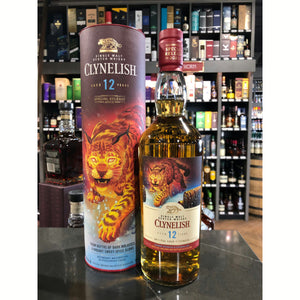 Size: 750ML
Proof: 117
Distillers Description:
Legend has it, Clynelish was once lashed by an epic blizzard. The storm's unnatural chill put precious casks at risk of certain ruin – their contents freezing in the glacial winds, until a mysterious feline creature silently appeared. Impervious to the bitter temperatures, it turned its hypnotic golden eyes on the casks, wrapping them in a cocoon of magical warmth. The rescued oak transformed with rare depths of mysterious and glowing spice, buttressed from the cold forevermore.
Retreating against a wild beauty, into the bramble-filled woods of the Highlands, Clynelish is a distillery even more remote than most. It is also the natural habitat to the elusive Scottish wildcat, Felix Sylvestris. Few of these evanescent creatures remain and rarely are they seen, but the wildcat symbol is emblazoned on the Clyenlish distillery, guarding it for all time.
Bright as a golden eye, amid the light, this Clynelish shows a spicier side to its bright fruitiness and waxy texture. The rich liquid glows with complex aromas of fruit, herbs and deeper, scented oak spice. The smooth texture and rich, wine-sweet flavours snarl with pepper-spice after an extended secondary maturation in Pedro Ximenez/Oloroso casks. A single malt as rare and elusive as its mysterious guardian
Appearance
Liquid sunlight. Bright gold.
Body
Medium.
Nose
Creamy top notes soon give way to light yet complex fruity and herbal aromas; subtle, understated suggestions of fruity mincemeat, tinned pears, even heather honey. Deeper still, spicy scents of oak preview a soaring intensity on the palate. A drop of water increases the herbal note, while also introducing a familiar waxy hint.
Palate
A very smooth, mouth-filling texture introduces a lively taste that is rich and wine-sweet overall, the palate well-balanced by snarling peppery, oaky spice. A little water enhances the sweetness, steers the smoothness of the texture towards waxiness and rounds the flavours, which soon give way again to spicy heat.
Finish
Quite long, chili-spiced, and appetisingly drying, with lingering pepper. A little water enhances the creamy- smooth texture and adds a little more spice.