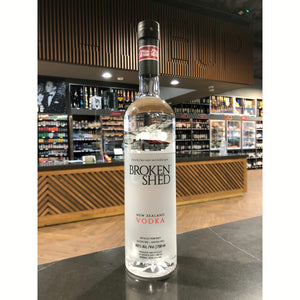 This is a BLACK FRIDAY SALE Limited Quantities Available at this price -Sale starts Thursday November 23rd going into Friday 24th at midnight. These bottles will sell out!Size: 750ML
Proof: 80
 Distillers Description:
Broken Shed Vodka is not only ahead of its time, it's ahead of your time. That's because it's made in New Zealand, where it's already tomorrow.
Pretty neat, huh? Just like a crisp, clean glass of our vodka, distilled with the purest New Zealand mountain mineral water, spring water, highest-quality distilled whey, and nothing else.
Pure, simple, sustainable. Forget what you know about vodka—this is the vodka of the future. This is what vodka can be.
Cheers to Broken Shed New Zealand Vodka. Cheers to you. And cheers to tomorrow.
Nose: An initial pure hit of dominant vanilla aroma, dissipating into a subtle blend of citrus and notes of freshly-cut southern grass.

Mouthfeel: A luxurious sensation that coats the palate and melts away seamlessly, leaving a smooth yet subtle lingering on the side of the tongue.

Palate: Butterscotch vanilla notes come to the forefront, dissolving into a peppery and bittersweet (yet smooth) taste on the back of the tongue.

Finish: Smooth, with a touch of warmth. You're left with a delightfully pleasant yet concise lingering of flavour on the