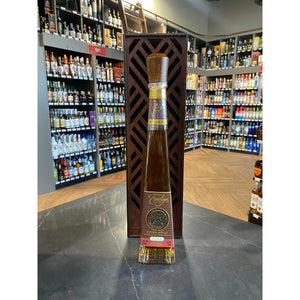 Las Vegas Area Delivery or In-Store Pickup 
Shipping Not Available 
Corralejo Extra Añejo 25 Anniversary. Aged for 5 years in American rye whiskey barrels, this tequila is a perfect mix of aromas and flavours, showcasing the delicate balance between the passion of the agave and the presence of rye.
During its 5-year maturation at the Corralejo house, the tequila adopts characteristic aromas and flavors, which give it a truly unique flavour profile. The white oak barrels used come from the Missouri area and were previously used for rye whiskey, which makes for a flavour-filled tequila unlike any other.
Appearance: Golden tones with amber sparkles, bright crystalline hue and oily body that shows its time in select barrels.
Nose: Intense oak and wood aroma with smoky and toasty notes. Dried fruit, butter, sweet vanilla, brown sugar and caramel aromas pair with soft cooked agave, cereal, apple and light spice notes like cinnamon, cloves and pepper.
Palate: Intense wood flavour and toasted notes with slight astringency. Intense cooked agave flavour and notes of cereals, delicate and marked sweet notes like vanilla, caramel and brown sugar with a pleasant buttery flavour. Dried fruit and light spices also come through on the palate.