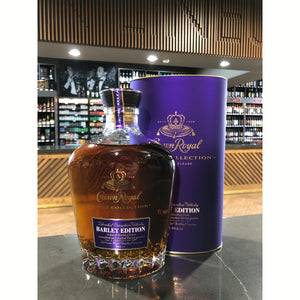 Size: 750ML
Proof: 90
Distillers Description:
Crown Royal Noble Collection Barley Edition is a premium blended Canadian whisky that has been crafted with exceptional care and attention to detail. This limited edition release is a celebration of the rich history and traditions of Canadian whisky-making.
The nose of this whisky is complex and layered, with notes of sweet barley, honey, vanilla, and toasted oak. On the palate, it is smooth and velvety, with flavors of caramel, toasted nuts, and a hint of spice. The finish is long and satisfying, with a subtle sweetness that lingers on the tongue.
What sets the Barley Edition apart is the use of a unique barley blend, which has been carefully selected for its exceptional flavor and aroma. The barley is grown in Canada's fertile prairies and carefully malted and distilled to produce a spirit of exceptional quality.
Overall, Crown Royal Noble Collection Barley Edition is a true masterpiece of Canadian whisky-making. It is a must-try for any whisky enthusiast looking to experience the very best that Canadian whisky has to offer