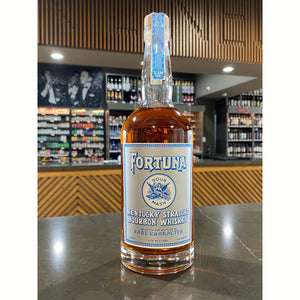 Size: 750ML
Proof: 102
Commercial Description:
Step right up, whiskey lovers, and let me introduce you to a bourbon so rare, so refined, that you'll wonder how you ever lived without it. I'm talking, of course, about Fortuna Straight Bourbon Kentucky Whiskey, selected by rare character.
This stunning spirit is the epitome of everything you've come to expect from a top-shelf bourbon. Rich, complex, and full-bodied, it delivers an experience that will leave your taste buds dancing with joy.
Crafted in the heart of Kentucky, Fortuna Straight Bourbon is made using only the finest ingredients, carefully distilled and aged to perfection. Each sip is a journey through the lush hills and rolling fields of this storied region, with hints of vanilla, oak, and spice that linger long after the glass is empty.
But what truly sets Fortuna apart is its rare character. Every batch is hand-selected by our master distiller, who scours the barrels for the most exceptional flavors and aromas. It's a labor of love, to be sure, but one that results in a bourbon that is truly unparalleled in its depth and complexity.
So whether you're a seasoned connoisseur or a curious newcomer to the world of bourbon, Fortuna Straight Bourbon Kentucky Whiskey selected by rare character is the perfect choice for those who demand the very best. Trust me, once you've tasted it, you'll never settle for anything less.