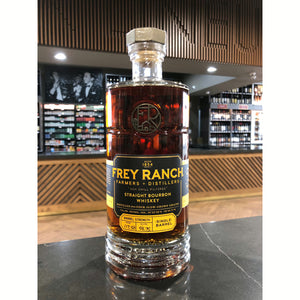 Size: 750ML
Proof: Barrel Strength Proof may Vary 
Distillers Description:
Our FARM-GROWN GRAIN WHISKEYS, STRAIGHT from the BARREL
We taste through every whiskey barrel as it comes to age and specially select those that stand out with unique flavors and textures. Born with exceptional characteristics, these barrels are bottled at cask-strength for our Distiller's Reserve collection that is available in special releases at Frey Ranch, as well as store-selected barrels as a premium limited release. Our Single Barrel collection has included barrel releases of four-grain, three-grain, and single grain mash bills to highlight the grains that we grow right here on Frey Ranch.