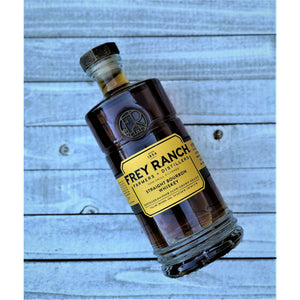 Las Vegas Area Delivery!
Size 750ML ABV 45%
 Born from 165 years of family farming tradition every single aspect of this whiskey was crafted on Frey Ranch. From tilling the soil, planting the seed, and growing the grains, fifth-generation rancher Colby Fey and his wife, Ashley began distilling in 2014, and are only releasing whiskeys aged at least 4 Years. 
Made at Frey Ranch Estate Distillery in Fallon, Nevada, this bourbon has a mashbill of 66.6% corn, 11.4% rye, 10% wheat, and 12% malted barley. Every step of the process, from growing the grain to bottling—and even including malting the barley—is done on-site.
Tasting notes:
Oak & citrus aromas are met by hints of honey, burnt orange peel and candied orange in a dry, medium intensity. Vanilla and caramel lead way to dried mint, banana chips, candy corn, and dried hay with a long finish of cedar, pepper and treacle.