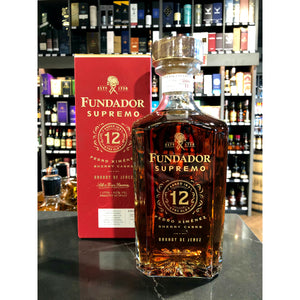 Size: 1L
Proof: 80
This Solera Gran Reserva brandy is obtained from wines specially selected for distillation. Aged in oak casks previously seasoned with 12-year-old Pedro Ximénez.
COLOUR
Amber topaz with a gold rim. Bright and very luminous.
AROMA
Very complex, spicy, with notes of dried fruits, vanilla sweets, honey, toffee and aromas of hardwood.
TASTE
Smooth and velvety, with a certain density, quality and round, with notes of dark chocolate.