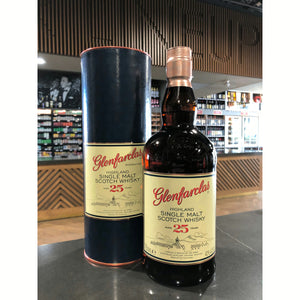 The distinctive and unforgettable, taste of our Highland Single Malt Scotch Whisky is the result of the family's experience over 150 Years. Glenfarclas is one of only a few distilleries in Scotland to remain family owned and managed. Now int the hands of the fifth and sixth generation of the family, the Grants remain committed to the vision of creating the best quality Highland Single Malt Scotch Whisky, in traditional Speyside style.
Glenfarclas 25 Year old 100% Oloroso Sherry Cask Maturation. A great After-dinner whisky so rich and full that it is a dessert in itself, with a finish that goes on forever.
Tasting Notes:
Colour: Amber with dark gold highlights.
Nose: Complex, yet refined with tempting aromas of marmalade, honey, freshly ground coffee, sherry and nuts. some tannins.
Flavour: Full-Bodied and robust, the sherry and oak fight for your attention yet neither overpowering.
Finish: Intense, long lasting, dry and malty. A beautiful dark chocolate taste at the back of your mouth to complete the 25 years old.