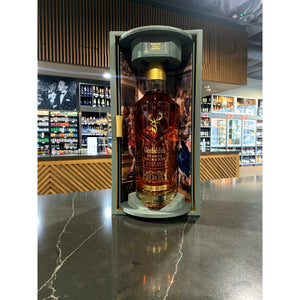 Size: 750ML
Proof: 87.6
Distillers Description:
AN EXTENDED FINISH IN RARE FRENCH COGNAC CASKS ADDS EXTRA LAVISH LAYERS OF SWEET TASTED OAK AND VELVETY AROMAS OF CAFÉ CRÈME, BROWN SUGAR AND SOFT SPICE.
GRANDE COURONNE IS THE EPITOME OF OPULENCE, ITS VERY NAME, MEANING CROWN IN FRENCH IS THE PROMISE OF THE EXCELLENCE IN EACH DROP OF THIS PRECIOUS SINGLE MALT.
NOSE
Vibrant and lively with an abundance of toasty oak sweetness. Reminiscent of a French pâtisserie, freshly-baked Tarte Tatin and buttery choux pastry.
TASTE
Deep, velvety smooth and indulgently sweet. Café crème with soft brown sugar and a hint of spice.
FINISH
Very long-lasting sweet oak.