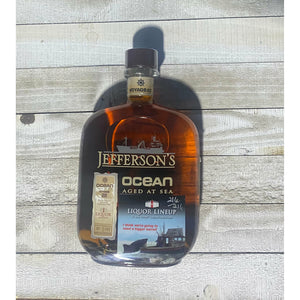 Free Father's day Gift engraving on this bottle 
-engraving dates Friday June 11 and Saturday June 26, 2021. After purchase please send engraving instructions to liquorlineup@gmail.com
Shipping not available. In-Store pickup or Las Vegas Area Delivery 
Size: 750
Proof: 90
Distillers Description:
Embarking on a cruise in the late summer rom Savannah is a pleasure as long as you are between tropical storms and depressions. This was just such a start for OCEAN Voyage 22. Seas were slight and the air was warm all the way to Manzanillo, Panama. It was a smooth passage through the Canal but we were held up for inspection and paperwork at the south exit of Balboa. Once cleared, OV22 headed out into rough seas but we were happy to be under way. It was another record year for storms in the Pacific which were, for the most part, held east and well north of New Zealand and Australia. This weather pattern accounted for rough seas across the South Pacific on our way to Auckland and across to Brisbane; conditions that persisted past Sydney, across the Tasman Sea and through the Bass Straight to Melbourne.

From Melbourne to the Port of Fremantle, the seas moderated to slight and the air temperatures climbed from the low 50's to the high 60's North from Fremantle and into the West Australian Basin, OV22 was again in rough water and the temperature continued to rise through the 90's as we approached the Equator OCEAN Voyage 22 made the run from Singapore to Shanghai smoothly. Across Japan and through the North Pacific, we would get only a day or two break in the high waves until we were below Tacoma, Washington. Like in the Pacific, we re-entered the Caribbean at the end of an above average storm season. Similar to the Pacific, we were not affected by the storms until we left Baltimore for Europe. Four major storms made an early turn to the north off Africa and hammered the North Sea one after the other. It was cold and windy all the way back to Baltimore where we laid over for five days to thaw out. When the seas calmed, we continued south to, Savannah and the end of very rocky voyage. Using wheat as its small grain rather than rye combined with the conditions of the voyage, OCEAN Voyage 22 Wheated delivers more of a corn and vanilla sweetness and an amplified saltiness as unique as the voyage itself.