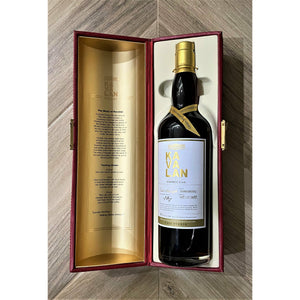 Las Vegas Area Delivery or In-Store pickup.
Cask Strength 
Cask no: S100125027A
Bottle No: 147/489
Proof: 112.6
Kavalan had always been kept primitive and protected from the outside world by the Syue-shan mountian range which is abundant in high quality natural water that comes from deep within the mountain range. The mists of Kavalan and the spirits of the past have been created for you in this exquisite whisky. Rated 97 points by the BTI, 5 time double gold SFWSC and winner of the coveted "Supreme Champion" title from the well respected Malt Maniacs Award, connoisseurs around the world scramble to get their hands on this stuff when available.
 Tasting Notes:
Colour: Dark and mouth-watering raisin.
Nose: Clean and complex and multi-layers of dried fruit, nuttiness and spices with some marzipan and vanilla touches to it as well.
Palate: Rich, oily and full with pleasant dried fruit and spices the linger on in the mouth plus a hint of fine coffee.