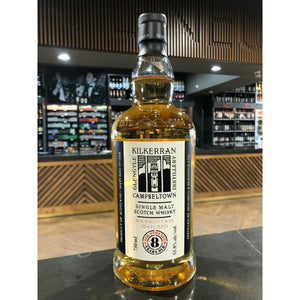 Size: 750ML
Proof: 111.6
Distillers Description: 
 Kilkerran 8 year cask strength is a true gem of a whisky, matured in carefully selected bourbon casks for an intense and complex flavor profile. The nose is immediately greeted by sweet notes of vanilla and honey, followed by hints of citrus and oak. On the palate, there is a delightful balance of sweet and spicy flavors, with a creamy mouthfeel and a long, warming finish.
One of the benefits of whiskey distilled at cask strength is that it allows for a more authentic and natural expression of the spirit. Without the dilution of water, the flavors and aromas are more concentrated, and the texture is richer and more robust. This makes for a more intense and satisfying drinking experience, with a depth of character that cannot be replicated in lower proof whiskies.
Kilkerran distillery is located in the small town of Campbeltown, in the southwestern region of Scotland. The distillery was founded in 1872, during the height of the Campbeltown whisky boom, and quickly became one of the most important producers in the area. However, like many distilleries in the region, Kilkerran fell on hard times in the early 20th century, and was forced to close its doors in 1925.
Thankfully, in the early 2000s, the distillery was resurrected by the Mitchell family, who had been operating the Springbank distillery in Campbeltown for generations. With a commitment to tradition and quality, the Mitchells have revived Kilkerran as a producer of world-class single malt whiskies.
Today, Kilkerran is known for its exceptional whiskies, which are characterized by their depth of flavor and complexity. The distillery uses a combination of modern and traditional techniques to create whiskies that are both innovative and rooted in the rich history of Campbeltown whisky.
Overall, Kilkerran 8 year cask strength is a testament to the skill and dedication of the distillers at Kilkerran, and to the enduring importance of Campbeltown whisky in the world of scotch.