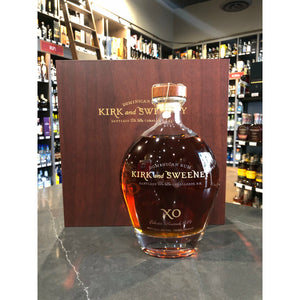 Las Vegas Area Delivery or In-Store Pickup 
Shipping not Available 
Size: 750 
Proof: 131
Distillers description:
IN THE SPIRIT OF THE RUM-RUNNING SCHOONER KIRK AND SWEENEY, THIS XO RUM IS WELL WORTH PURSUING. HANDCRAFTED IN SANTIAGO DE LOS CABALLEROS IN THE DOMINICAN REPUBLIC, THIS RUM ADHERES TO THE VERY STRICT REGULATIONS TO BE CALLED "DOMINICAN RUM".
Aroma
This is unrivaled XO rum from Kirk and Sweeney with a highly polished color of deep amber with light golden hues. The nose dominates with layers of dried fruits and oak with subtle hints of caramel and toffee.
Taste
At first sip, flavors of toasted oak and vanilla delight the senses with hints of raisin and sherry, built upon layers of spice and sweet dried fruits.
Long, warm and robust finish through the end. This XO rum leaves you with a desire for more.