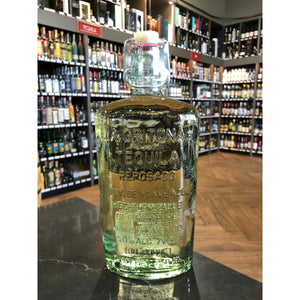 Size: 750ML
Proof: 80
Liquor Lineup Description:
Introducing La Gritona Tequila Reposado, a true gem for all tequila aficionados seeking an unforgettable sensory experience. Crafted with passion and expertise, this exceptional reposado tequila captures the spirit of Mexico's rich heritage and delivers a taste that lingers on the palate.
La Gritona Reposado begins its journey as premium blue Weber agave plants, carefully selected from the fields of Jalisco, the heartland of tequila production. Our master distillers employ traditional techniques, ensuring the utmost care is taken at every step of the distillation process.
Aged in oak barrels for a minimum of six months, this reposado tequila achieves a harmonious balance between the raw agave character and the rich influence of the wood. With each sip, you'll experience a symphony of flavors that dance across your taste buds.
The nose is greeted by enticing aromas of cooked agave, caramel, and hints of vanilla, inviting you to explore further. On the palate, La Gritona Reposado delivers a smooth and velvety texture, unveiling flavors of honey, toasted oak, and a touch of tropical fruit. The complexity deepens as subtle notes of cinnamon and spice emerge, leading to a warm and satisfying finish that leaves you craving for more.
This remarkable reposado tequila is best enjoyed neat or in classic cocktails like the Old Fashioned or the Paloma. Its versatility allows you to elevate your mixology skills, creating memorable drinks that will impress even the most discerning palates.
La Gritona Tequila Reposado is more than a spirit; it embodies the passion and artistry of tequila craftsmanship. With its captivating flavors and distinctive character, it's a testament to the vibrant spirit of Mexico and the heritage of tequila-making. Elevate your tequila experience and savor the essence of La Gritona Reposado. Salud!