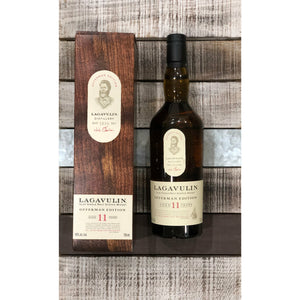 Shipping Not Available. In Store Pickup Only.
Category: Scotch, Style: Single Malt Scotch Whisky, Region: Islay, Country: United Kingdom, Alcohol: 46%, Distillery: Lagavulin, Age: 11 Year Old, Maturation: Bourbon Casks
Somewhere along the way, Lagavulin dethroned everyone else to become the go-to distillery for fans of peated Scotch.
Lagavulin Offerman Edition 11 Year is named in honor of the actor Nick Offerman, a Lagavulin enthusiast who has appeared in numerous ads for the brand. Offerman collaborated with Lagavulin distillery manager Colin Gordon to select the liquid. He also helped with the bottle design which bears his portrait and signature along with a quote. Bottled at 92 proof, this limited edition release is available beginning October 2019.
Nose: The aromas are classic Lagavulin with Bar-B-Q smoke, fresh sea grass, roasting citrus, and baked apricots.


Flavor: The flavor profile is the perfect Islay with beach campfire, salted caramels, dutch apple pie, dark chocolate, and cigars.


Finish: The finish is dry with interest