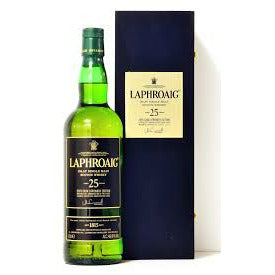 Shipping Not Available. In Store Pickup Only.
Laphroaig 25 Year Aged Cask Strength 2015 Edition. Truly something special from Laphroaig: a 25 year old single malt, bottled at a cask strength of 46.8% ABV. Known as "the most richly flavoured of all Scotch whiskies", this dram certainly lives up to the billing, having been matured in a mixture of American oak and former Oloroso sherry casks.
Nose: subtle, but enjoyable. light wiffs of coastal air and sea spray. some bright green fruits. subdued peat. pleasant on the nose but nothing to blow you away.
Palate: rich, buttery pastry. a slight hint of vanilla. then more fruits come in, crisp green apple and some smoke. finally the peat comes, but not like typical Laphroaig rubbery medicinal peat, but a salty slightly funky peat reminiscent of springbank or bruichladdich.
Finish: here it changes again, a little bit of Laphroaig campfire smoke comes through, followed by the apple notes again, this time sweet like candy. long and lingering. delicious.