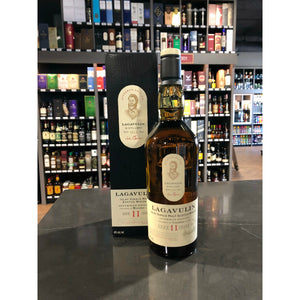 Las Vegas Area Delivery or In-Store Pickup

Shipping not available
Size: 750
Proof: 92
For fans of Ron Swanson/Nick Offerman, this bottle of Lagavulin is a must have! Lagavulin Offerman Edition 11yr Scotch Finished in Guinness Casks is named in honor of the actor Nick Offerman, a Lagavulin enthusiast who has appeared in numerous ads for the brand. This second edition, a follow up to the original Lagavulin Offerman Edition 11 Year, is finished in Guinness Casks and also aged 11 years. The scotch was finished for 5 months in barrels that previously held Guinness beer at the Open Gate brewery in Baltimore, MD.
In the words of Offerman...
"I have traveled the world and sampled many attempts at pleasing nectars, but it is solely this distillation of Islay, a tiny, charismatic Scottish isle, that has claimed my palate. Yea, and my heart into the bargain."
46% ABV