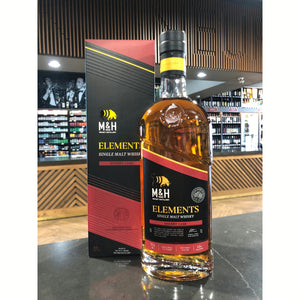 Size: 750ML
Proof: 92
Distillers Description: 
M&H Elements Sherry cask is a premium single malt whisky that is crafted in Israel by the renowned M&H Distillery. This whisky is aged in carefully selected sherry casks, which impart a rich and complex flavor profile to the spirit.
The nose of M&H Elements Sherry cask is filled with notes of dried fruits, raisins, and figs, along with hints of vanilla and oak. On the palate, the whisky is velvety and smooth, with flavors of dark chocolate, nuts, and a subtle smokiness.
M&H Elements Sherry cask is bottled at 46% ABV and is non-chill filtered, ensuring that the full flavor of the whisky is preserved. This premium whisky is perfect for those who appreciate a well-aged, complex spirit that is rich in flavor and character.