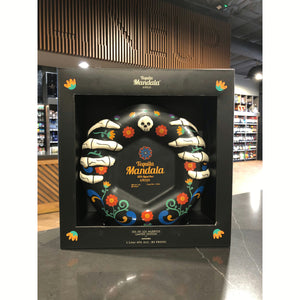 Size: 750
Proof: 80
Distillers Description:
 To keep representing the diversity and history of México, Tequila Mandala rotates twice a year different artists with their own proposals for our Special Edition ceramic bottles. We want to become a platform for their creativity at an international level and true ambassadors of our country's culture.
Of meticulous care in its process and elaborated with the selection of mature agaves that is cooked in brick ovens, receiving a double distillation to reach the perfect taste. Aged 24 months in Sherry Cask barrels helping to achieve an exquisite body of unequaled flavor.
Color: Intense gold with golden shades.
Aroma:Roasted French oak, cooked agave.
Taste:Soft, fruity and sweet, leaving a finish that is persistent and pleasant to the palate.
Aging:24 Months in Sherry Cask barrels.