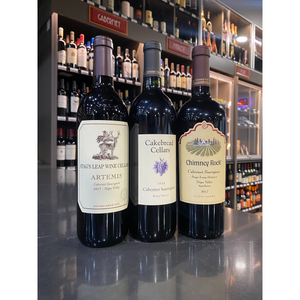 We present you with the opportunity to add three of the greatest Cabernet Sauvignons in the world to your collection at an incredible price!
Chimney Rock Stags Leap District Cabernet Sauvignon 2017 Appellation Napa Valley Size: 750ML Alcohol %14.8
The Chimney Rock Estate is blessed with a diversity of soil and topography that breeds complexity in our wines. To the east, our steep hills and shallow soils bring us density and power. On the north end, our proximity to the Palisades gifts us with ripeness and purity of fruit. To the south, our proximity to the bay brings us breezes that add the nuance of cooler climate--adding hints of dried herbs and mint. It is this diversity that has enabled us to represent the quintessence of Stags Leap District--the tension between grace and power, the balance of finesse and muscle. We are delighted to share our 35th vintage of Cabernet Sauvignon: its beauty proclaims we are here to stay.

Aroma: This Cabernet is abundant with aromas of black currant and cherry, with hints of mocha, vanilla and floral.

Flavor: This Cabernet is rich and savory with plum and black cherry flavors and hints of dried fig, vanilla, and floral. On the palate this wine is smooth and viscous in the midpalate, full-bodied, and the tannin structure is firm but very polished. Recommend decanting.
Cakebread Cellers Cabernet Sauvignon Napa Valley 2018 Appellation: Napa Valley Size: 750ML Alcohol % 14.8
Tasting Notes Our classic Napa Valley Cabernet Sauvignon reveals aromas of ripe blackberry and boysenberry with hints of dark chocolate and sweet oak. On the palate, the dark fruit is balanced by fresh acidity and lush tannins that carry all the way over a lingering, elegant finish—with just a kiss of minerality. Enjoy this wine now, with everything from lamb burgers to filet mignon and fire-roasted portobello mushrooms—or lay the wine down and watch it continue to develop complexity in the bottle for years to come. Grape Variety: 88.2% Cabernet Sauvignon, 6.2% Merlot, Alcohol Content: 14.8% 3% Petit Verdot, 1.1% Syrah, Total acidity: 0.66g/100ml .5% Malbec, .5% Cabernet pH: 3.64 Franc, .5% Petite Sirah Winemaker: Stephanie Jacobs Vineyards: 100% Napa Valley Harvest Dates: September 22 – October 10, 2018 Barrel Aging: 17 Months In 55% New French Oak Bottled: April 2020
Stag's Leap Wine Cellars Artemis 2018 Appellation: Napa Valley Size: 750ML Alcohol % 14.5 
The 2018 ARTEMIS Cabernet Sauvignon delivers expressive aromas of ripe raspberry, dark cherry and blackberry along with hints of cedar and spice. The mid-palate is pleasant and round with flavors of dark chocolate, plum, dried fruit and toasted oak. The finish is rich and lingering.
FOOD PAIRINGS
Enjoy this Cabernet Sauvignon with grilled tri-tip, braised short ribs, or pasta with wild mushrooms and prosciutto.
WINE ANALYSIS
Blend:
98% Cabernet Sauvignon, 1% Petit Verdot, 1% Malbec
Aging:
The wine was aged for 15 months in 40% new oak (35% new French Oak; 5% new American Oak) with the balance in older oak barrels.