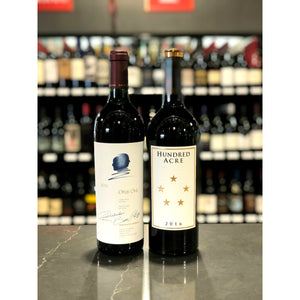 We present you with the opportunity to add two of the greatest Red Wines in the world to your collection at an incredible price!
100 Acre Ark Vineyard Cabernet Sauvignon 2016
Appellation Napa Valley Size: 750ML Alcohol %15.5
Winemaker Notes
This was the beginning of the end of the drought in Napa Valley. The vines were finally given a break with close to normal amount of rain in the winter preceding the vintage. 2016 was cooler overall than 2014 and 2015, it was warm and dry, but without the massive spikes in temperature that challenged the previous two years. 2016 was the kind of year where even a blind squirrel can find a nut, so most wineries could coast along and make good wine. We don't coast, so 2016 was an epic vintage for us, one for the ages.
2016
ARK VINEYARD CABERNET SAUVIGNON
The 2016 stands out for its combination
of power, purity, sweetness of fruit and tannin, lavish concentration and impeccable harmony.
Opus One  2018
Appellation Napa Valley Size: 750ML Alcohol %14
The 2018 Opus One offers splendid aromas of blueberry, cassis, and blackberries. A creamy entry gives way to layers of complexity which unfold in the mid-palate with velvety tannins enrobing a center of concentrated black-fruit. Elegantly balanced, the acidity and core structure deliver a persistent finish with hints of dark chocolate.
Blend: 79% Cabernet Sauvignon, 7% Cabernet Franc, 6% Merlot, 6% Petit Verdot, 2% Malbec
Critical Acclaim
The greatest Opus ever. Terrific aromas of crushed black currants, blueberries and flowers with hints of sweet tobacco. Roses continue to exude opulence and class. Full body, superb balance of ultra-fine tannins and vibrant acidity. Complex aftertaste of black fruits and citrus fruit. Extremely persistent. So approachable now and enjoyable. But will be even better in 2019 and beyond.