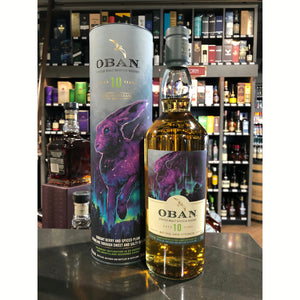 Size: 750ML
Proof: 114.2
Distillers Description: 
From Diageo's much-anticipated Special Releases comes a bottle of Oban 10-year-old that was aged in refill and new American Oak, before further double maturation in ex-sherry and Amontillado seasoned casks. Interesting stuff from a bottle dubbed 'The Celestial Blaze', a reference to the lights of the Aurora Borealis that can be seen from Oban Bay, and how legend had it that the vivid blaze of light was driven by a celestial being.
Nose: Sweet-smelling, vanilla and toffee, with red cherry and cardamom.
Palate: Lively, very spicy, liquorice, cardamom, cloves, and orchard fruit. Highly aromatic.
Finish: Long with tobacco and mint.
Overall: Lovely aromatics, extremely upmarket Listerine.
invigorating