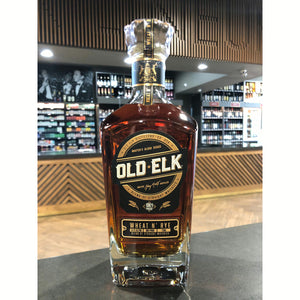 Size: 750ML
Proof: 108.4
Distillers Description:
Old Elk Wheat n' Rye Whiskey is a premium spirit crafted by Old Elk Distillery, one of the pioneers in Colorado's emerging whiskey distilling scene. This whiskey is a blend of 51% wheat and 49% rye, giving it a unique flavor profile that is both smooth and spicy. The mash bill has been carefully selected to create a balance between the sweet and savory notes, making it a perfect choice for sipping neat or mixing in a cocktail.
The whiskey has been aged in new charred American oak barrels, which impart a rich caramel color and flavors of vanilla and toasted oak to the liquid. The barrels used in the aging process have been carefully selected to ensure that the whiskey is aged to perfection, resulting in a smooth and well-rounded finish.
Old Elk Wheat n' Rye Whiskey has an alcohol by volume (ABV) of 54.2% making it a robust and flavorful spirit that is sure to impress even the most discerning of whiskey drinkers. Its smooth and spicy flavor profile is a testament to the careful attention to detail that goes into every step of the distillation process.
Old Elk Distillery is a key player in Colorado's emerging whiskey distilling scene, which has been gaining momentum over the past few years. Founded by Curt Richardson, the founder of OtterBox, Old Elk Distillery is committed to crafting high-quality spirits that are a true representation of Colorado's rich history and heritage. With its innovative approach to whiskey making and its commitment to quality, Old Elk Distillery is a shining example of the creativity and passion that are driving Colorado's whiskey industry forward.