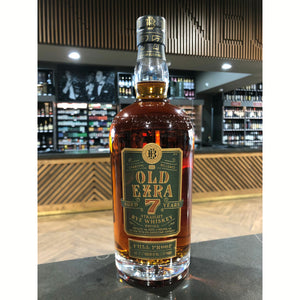 Size: 750ML
Proof: 114 
Liquor Lineup Description:
Old Ezra 7 Year Old Full Proof Rye from the esteemed Lux Row Distillery is a sensory delight that offers an unforgettable journey through time and taste. With a rich history spanning over a century, Lux Row Distillery has always been dedicated to crafting exceptional spirits, and this rye whiskey is no exception.
At full proof, this rye whiskey is a powerhouse, delivering a full-bodied and robust flavor that is sure to leave a lasting impression. Each sip is a harmonious blend of sweet and spicy notes, with a complexity that only comes with years of aging in charred oak barrels. The palate is met with a delightful explosion of cinnamon, nutmeg, and clove, followed by a smooth, buttery finish.
This whiskey is a testament to the art of distilling, and the expertise that has been passed down through generations of Lux Row distillers. The combination of their knowledge and the rich, flavorful grains used to craft this rye have resulted in a spirit that is nothing short of exceptional.
In conclusion, Old Ezra 7 Year Old Full Proof Rye is a beautiful tribute to Lux Row Distillery's history and their unwavering commitment to producing premium spirits. It is a must-try for any whiskey enthusiast seeking a unique and unforgettable experience.